I'm joining up with
Ma Nouvelle Mode
today for the CopyCat Closet series. These girls are so super fun, but today I encourage you to check out their site not just for this link up but to read Christie's story. She delivered a little boy who is in need of lots of prayers right now as he just under went the first of 3 heart surgeries. :( Breaks my heart and brings me to my knees. Please keep them in your prayers.
I adore clothes, though I'm not a fashion expert or fashion blogger. This is a fun way to link up with others and be challenged to come up with an outfit. This week we were asked to do some color blocking. I think my look has some improvements but it was my first attempt so I guess I can be cut some slack here. ;)
Though I really like this WILDCAT Blue bag I thought I could do better.
Yep this is more like it.
I've said it before and I'll say it again. My greatest accessory. No outfit is complete without him.
Christie, you will be toting around your sweet Bennett with all your adorable clothes very soon. XO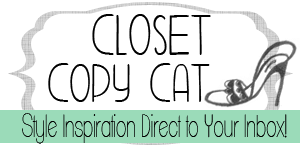 This is a really fun way to be asked to come up with a look and I really do enjoy it. I suggest following them and participating when you can too. :) If you sign up they send and email to you on Friday so you have almost a week to think about it, take pics and then post. See you next time!